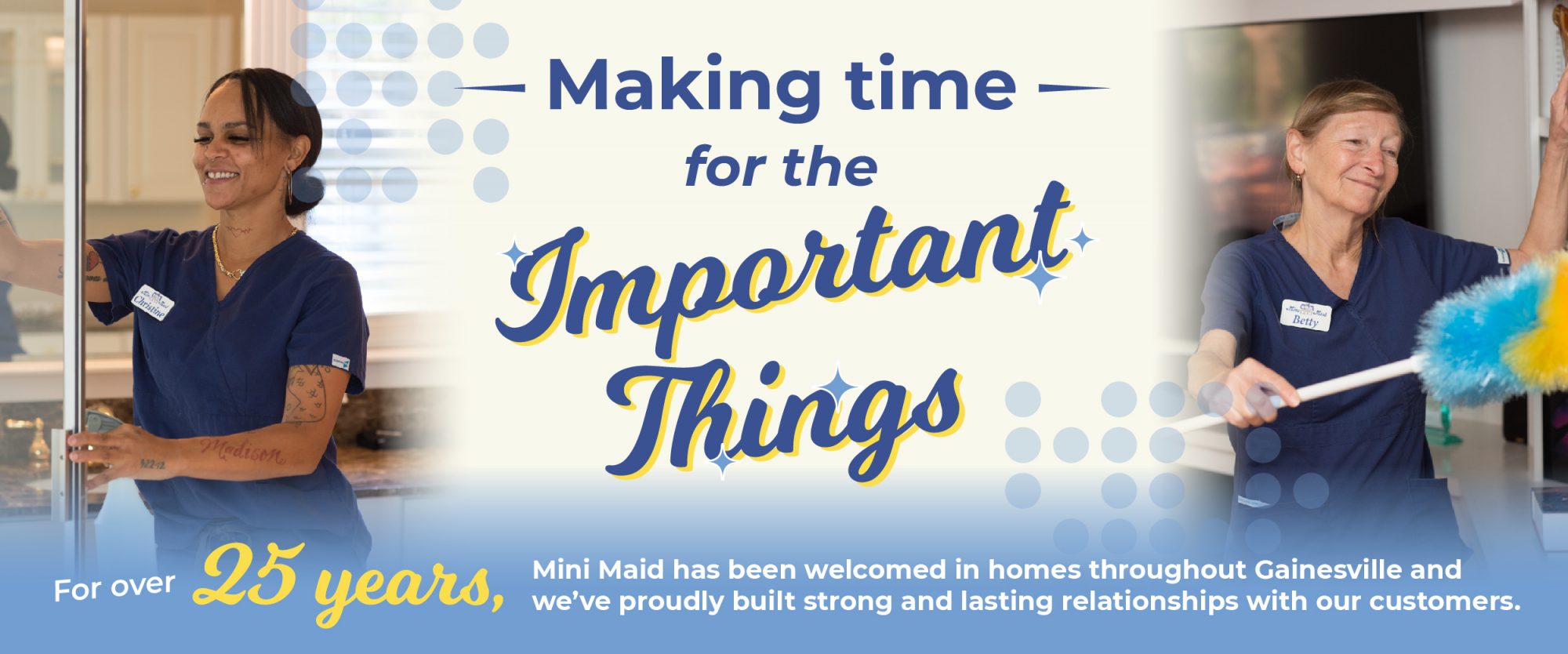 Why Mini Maid?
Many of our clients have been with us for 20 years or more. Our secret? Reliable service, smiling faces, devotion to our community and a personal touch.

Making a difference
Here at Mini Maid, we proudly donate our time to Cleaning for a Reason, Clean Start Day, and other community causes that impact local families.

Tips from our blog
Mini Maid can "magically" make your house shiny and new. Find out a few of our secrets on cleaning everything from marble floors to ceiling fans.
YOUR HOME IS YOUR SANCTUARY.
After a long day at the office or with the kids, your home should be where you can find some peace, relax, spend time with family or take a little time for yourself. When your castle is clean, all is right with the world. The last thing you want your home to be is another stressful item on your busy To-Do list! Mini Maid is more than just a scheduled house cleaning service; we are the protectors of your peace of mind. With more than 20 years of professional cleaning experience serving Gainesville, Alachua, Town of Tioga, Haile Plantation, Newberry, High Springs, Micanopy and Melrose, Mini Maid will handle all of your home and office cleaning needs with an unmatched level of efficiency and expertise.
Team Accountability. We understand that letting a stranger into your home can be a little daunting. At Gainesville Mini Maid, our professional cleaning teams consist of a leader and two to three additional maids. We find our customers feel more secure knowing that their maids are trained experts who are accountable to a team. We also try to assign a consistent leader to your home so that long-lasting relationships can be built with your family and we can grow accustomed to your household's specific cleaning preferences. We also find that working in teams helps us to complete your house cleaning in a timely manner, so we can get in and out and you can get back to your day.
Commercial and Residential. Your home isn't the only place you need organization and peace-of-mind! It's hard to focus on the task at hand when you're surrounded by dusty desks, disheveled paperwork and overfilled waste bins. Not to worry – Mini Maid is available to help at the office, too! Don't let your office mess distract your team from what's important. Schedule our team to come in and handle the dirty work so you can get more done.
Eco-Friendly Cleaning. We wouldn't bring toxins into our own homes, and we definitely wouldn't bring them into yours! All of the cleaning supplies and chemicals we use are eco-friendly, nontoxic and non-caustic. This means that our cleaning products are safe not only for the environment, but for humans, pets and surfaces, as well. Our cleaning supplies will not burn, corrode or damage counters, floors, furniture or skin! We take every precaution to ensure the safety and well-being of our clients and our planet.
REDEEM OUR SPECIAL OFFER TODAY!
See current special offers from Gainesville Mini Maid. Let us take cleaning off your to-do list!
Vacuum and mop tile floors
Dust and polish furniture
Clean entry and patio floors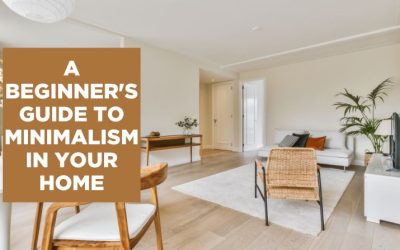 Are you thinking of introducing minimalism to your home? Wondering what it's all about? It's essential to know that the minimalist lifestyle isn't just about decluttering - although that is a big part of it; it's a way of thinking that can transform your life. So, if...
Bob & Carol Doak, Owners
1831 NW 13th Street Suite 8
Gainesville, Florida 32609
Phone: 352-374-4141
Fax: 352-376-0161
Email: hello@minimaidgainesville.com
© 2021 Alachua County Mini Maid. All rights reserved.
Let us know how you feel about our service. We would love to know your thoughts.
Fill out the online comment card.