Mini Maid is now offering a full range of professional, eco-friendly commercial cleaning and janitorial services throughout Gainesville, Alachua, parts of High Springs, Melrose, Micanopy and eastern portions of Newberry, FL.
Your office is the face of your business, and nothing is more important than presenting a sparkling clean and organized environment when clients pay a visit to your space.
At Mini Maid, we conduct our commercial cleaning appointments during business hours. This way, we operate during daylight hours and you do not have to provide access to your offices at night.
We utilize professional, 3-4 person cleaning teams, allowing us to clean your space from top to bottom quickly – typically in 30 minutes or less!
Get a free online quote below!
Mini Maid provides commercial cleaning services for: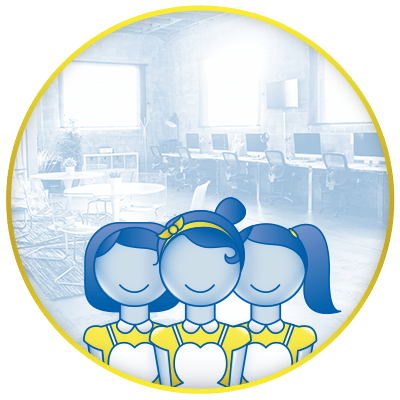 Bob & Carol Doak, Owners
1831 NW 13th Street
Gainesville, Florida 32609
Phone: 352-374-4141
Fax: 352-376-0161
Email: hello@minimaidgainesville.com
© 2019 Alachua County Mini Maid. All rights reserved.
Let us know how you feel about our service. We would love to know your thoughts.
Fill out the online comment card.