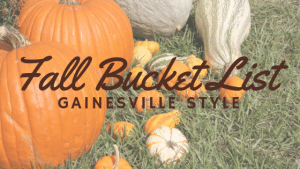 Florida really isn't known for colorful fall leaves and cold weather but we do have some really cool fall activities. Check out this Ultimate Gainesville Fall Bucket List and make plans to enjoy the best of Florida's fall. How many can you check off? Watch Florida...
Bob & Carol Doak, Owners
1831 NW 13th Street Suite 8
Gainesville, Florida 32609
Phone: 352-374-4141
Fax: 352-376-0161
Email: hello@minimaidgainesville.com
© 2020 Alachua County Mini Maid. All rights reserved.
Let us know how you feel about our service. We would love to know your thoughts.
Fill out the online comment card.